FRITSCH - A strong MULTIVAC brand
The integration of FRITSCH into the MULTIVAC Group is proceeding very rapidly. The joint CEOs, Andreas Eyd and Frank Gabriel, report in this interview on the current state and prospects of the family company, which was founded in 1926.
Mr Eyd, how far has the integration of FRITSCH Bakery Technologies into the MULTIVAC Group progressed at this stage?
In recent months we have put together a dedicated team, which is driving forward the integration with a lot of energy and expertise. We are currently processing a total of 200 integration plans, over 30 of which have already been successfully completed. The changeover in Sales and Service to the MULTIVAC organisation is already in full swing. Training courses are currently taking place in the FRITSCH Technology Center (FTC) in Kitzingen, and the first systems have already been sold by MULTIVAC subsidiaries.
Mr Gabriel, the production of bread and bakery products is one of the most important sectors of the German food industry. Yet the sector finds itself in the middle of a profound structural change. Hand-crafted producers are losing ground, while industrial-scale manufacturers are becoming more significant, and retailers are investing strongly in their own production operations ...
That is true, but we see this trend towards consolidation of the bakery sector primarily in industrialised countries. In Germany, for example, the number of hand-crafted bakeries has shrunk from more than 60,000 to just 10,000 companies in the last 60 years, although the sector continues to grow every year. At the same time however, we see the demand for significantly smaller operations in developing countries, which initially require equipment that is designed to their individual needs. These are very advantageous conditions for us, since we are able to supply bakery equipment to hand-crafted producers, as well as industrial-scale solutions tailored to larger companies. This means we are able to grow with our customers - and also offer them the opportunity to get to know all our equipment in our Technology Center in Kitzingen, where they can also refine the optimum product for them with the help of our experts.
Andreas Eyd: We are observing a trend towards greater product differentiation. This is not only in terms of more product diversity but also in the number of new products, which, for example, often contain only 100% natural ingredients. The processes and types of dough are therefore becoming more diverse, as are, of course, the demands imposed on FRITSCH solutions. As a leading manufacturer of bakery equipment, we have a high degree of know-how in all aspects of dough processing. In addition to this, there is a noticeable trend towards larger product sizes.
Frank Gabriel: The trend towards a higher level of product differentiation can certainly be seen. In the artisan sector, for example, such as baguettes and rustic breads, there is a trend towards greater variety as well as gluten-free products. Consumers now want to find as many different bakery products as possible in the bread basket on the breakfast table. Our highly flexible dough processing systems are ideally suited to these trends. Many types of bakery products with different sizes, shapes and ingredients can be produced on the one piece of equipment. The same also applies to our croissant and patisserie systems. Internationally we are also seeing a continually growing interest in twisted products, which can be produced on our MULTITWIST pretzel machine at an output of up to 20,000 per hour.
The cost pressure in the sector is enormous. How do you support your customers, Mr Gabriel, in terms of productivity and quality, as well as helping them to differentiate their products at the point of sale?
As in many other sectors, the growing lack of qualified technicians combined with the rising cost pressure in the bakery industry are creating a marked trend towards automation. FRITSCH is focusing on a comparatively new process, in which the bakery products are manufactured from a continuous dough sheet. In this highly traditional sector, however, many companies continue to produce their bakery products from individual dough pieces, which are subsequently formed to the desired shape. Dough sheet systems, on the other hand, offer the significant benefit of a high level of flexibility, which enables several different products to be produced on a single piece of equipment. Customers who change over to this technology can, therefore, use one FRITSCH system to cover all the requirements, which would previously have involved investing in several individual machines.
Andreas Eyd: I would also like to add, that our solutions can be extended very flexibly and therefore, if required, easily adapted to new demands from the market. Our dough sheet process is also particularly gentle on the product, and this is ultimately a guarantee of a very tasty and attractive bakery product. It is our stated aim to offer our customers solutions, which are ever more efficient in their operation, and which allow them to produce high-quality products that appeal to consumers at every bite. Our experience over more than 90 years in handling dough is an invaluable help.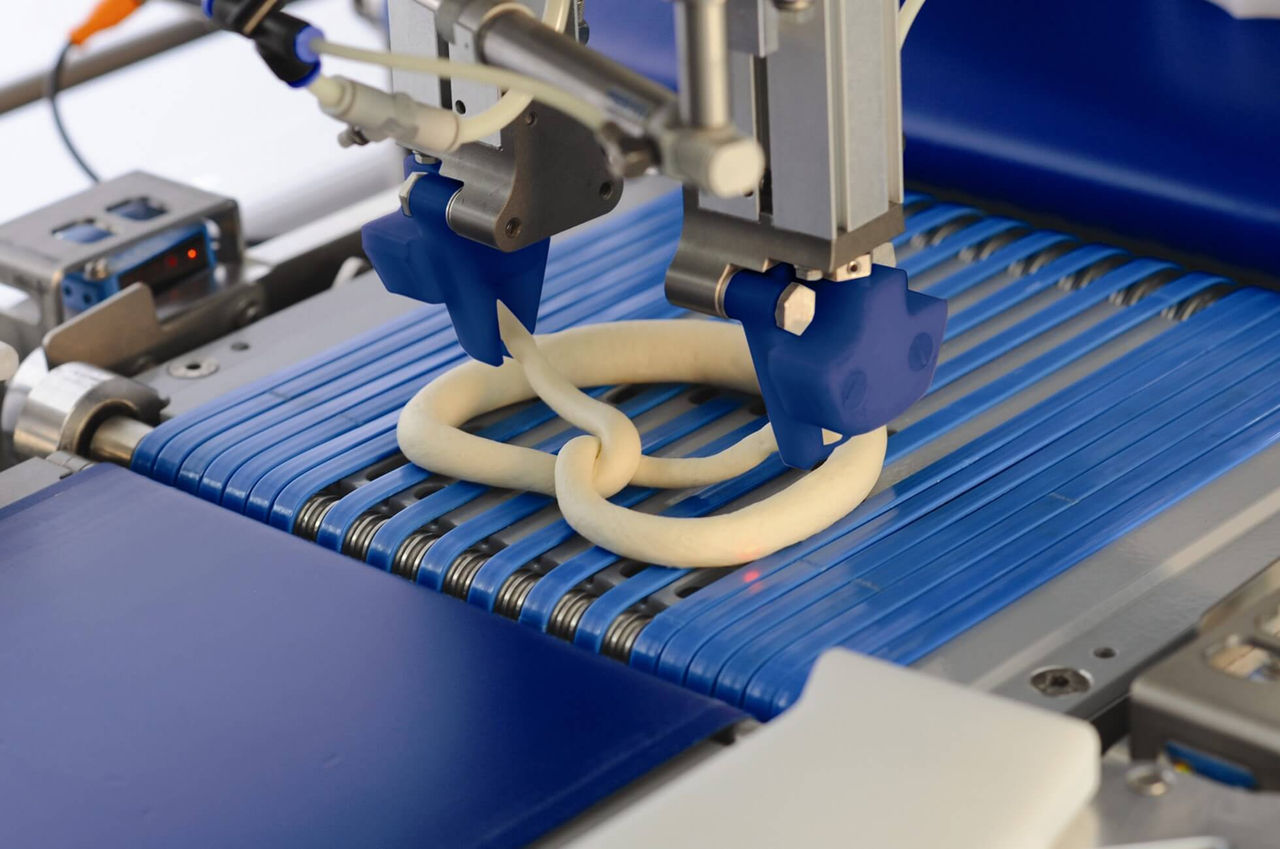 What are the concrete objectives you want to achieve in the medium term?
Frank Gabriel: FRITSCH is recognized in the market as the leader in technology. Being part of the MULTIVAC Group offers us the opportunity of building on this advantage still further. It is mainly in the area of automation that in future, we will be developing innovative new solutions with MULTIVAC and offering these to the volume markets. Our other priorities will also, of course, include increasing the flexibility and output capacity of our dough sheet systems.
One other aspect: space in production areas is becoming ever more expensive - our customers, therefore, place great value on compact systems, which do not take up any more space than is absolutely necessary. This is also one approach which we would like to pursue further. And last but not least, digitalisation is also developing into an important selling point in our sector, which is why we are already working at high speed on suitable tailored solutions that offer customers real added benefit.
Mr Eyd, you are also able to carry out individual customer trials at your Technology Center in Markt Einersheim, as well as providing advice on the development of specific products and recipes. To what extent is this service used, and what benefits does it offer your customers?
Our customers are very product-focused and particularly interested in all aspects of bakery products. Customers from around the world come to us every day to carry out a broad spectrum of product tests in the FRITSCH Technology Center - from mixing of ingredients through to manufacturing the dough sheet and right up to the final baking process. We are able to reproduce the entire process from the raw materials to the finished bakery product. And this can be done on a line, which already reflects the customer's specific requirements. FRITSCH customers have the opportunity of experiencing live the flexibility and variety offered by the different dough sheet systems. As soon as a particular product captures the imagination of the customer, it is invariably the case that he quickly decides on a suitable line from FRITSCH. The Technology Center is therefore an essential part of the sales process. The tests are carried out by our dough technologists, who really understand their subject. I can only add, that the bakery products produced every day in the Technology Center are truly delicious!
You just mentioned the catchword "digitalisation". Question: Is the digital revolution also bringing changes to the bread and bakery industry? How do you assess this development currently in your sector?
Andreas Eyd: The sector is very receptive to these trends, and FRITSCH already has several digitalisation products in its range. We are, for example, currently working intensively on minimising unplanned downtime on our equipment since the manufacturing process for bakery products is extremely time-critical. Dough is an organic product which is living and changes by the minute. In some cases dough can become unusable after just 20 to 30 minutes if it is not processed within this time. The availability of our lines is therefore of crucial importance.
Frank Gabriel: Digitalisation is also becoming increasingly important in the B2B business in our sector. FRITSCH recognized this some time ago and has already launched a number of developments. We are very proud of the fact that we presented and sold the first Industry 4.0 machine at iba 2018. I personally see significant potential in this area over the coming years. One objective is, for example, to further improve the equipment on our machines for predictive maintenance and process monitoring or analysis. Here we are already using very intensively the synergies resulting from the work by MULTIVAC.
In order to provide FRITSCH technology to customers around the world, your solutions will be sold through the MULTIVAC organisation in the future. How do you ensure, Mr Eyd, that the required know-how is embedded in MULTIVAC's regional sales companies?
Andreas Eyd: By dividing the market into six regions, each with its own Sales Director, we have adapted our sales organisation perfectly to the existing MULTIVAC structures. The Sales Directors are the first point of contact for the MULTIVAC subsidiaries, and they deal with them on all aspects of FRITSCH business. We have been able to recruit six staff members to these positions with many years of experience and excellent FRITSCH know-how, and we are therefore convinced that we can bring our knowledge and expertise to the MULTIVAC subsidiaries.
Frank Gabriel: The first step in building up know-how is certainly the service aspect. Today, there are FRITSCH systems running throughout the world, but service for many of these has up to now been provided from our headquarters in Germany. That was not really satisfactory. But our international customers can now be assured that they will soon experience much improved reaction times and quickly appreciate the improved service.
Which other synergies do you expect to achieve as a consequence of FRITSCH being part of the MULTIVAC Group?
Frank Gabriel: With the takeover of FRITSCH, MULTIVAC has expanded its product range as a supplier of complete solutions in the food sector. MULTIVAC has also, however, opened up new potential for its own products with customers in a market which had not previously been fully exploited. FRITSCH for its part benefits not only from significantly wider market access, but also from the opportunities of MULTIVAC's international production and support. This will have a very positive effect on our customers in future, particularly as regards delivery times and the availability of spare parts.
Many thanks to you both for the very informative discussion.