Networked, reliable and efficient: a new dimension in tray packaging
Whether it is gourmet hamburgers, filled chicken breast, beef and poultry kebabs or even veggie kebabs, pork fillets or asparagus in bacon - quality, innovation and appetizing appearance are always the first priority at Premier Custom Foods. The ethos of the food producer based in Kansas City is to transform high-quality raw materials into innovative food products, to rethink the concept of taste, and to constantly surprise consumers with new ideas.
The team around CEO Patrick Williams has collectively more than 100 years of experience in the food industry. Production at the company's headquarters in Kansas City is carried out with state-of-the-art technology on a site covering 42,000 square meters. The company offers a wide range of products: tender chicken breast with a wide variety of fillings, marinated or on skewers with peppers and onions. High-quality beef, as Caribbean-inspired beef fillets, or as kebabs and burgers, or stuffed with green peppers. Pork cutlets: natural, filled or encased in bacon. And vegetables such as asparagus, potatoes or jalapeno peppers are also redefined with tasty bacon and cheese.
Patrick Williams explains: "We want to do precisely what the large market players in our sector cannot do. Thanks to our lean organization and very manageable company size, we are extremely flexible and can therefore bring product innovations to the market in a relatively short period of time. With all the passion that we have for food. And with a systematic focus on our customers."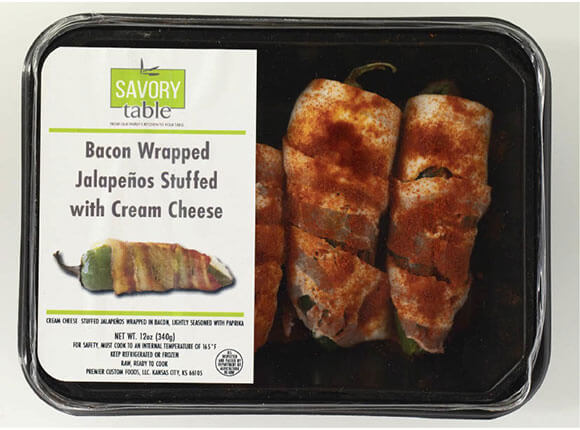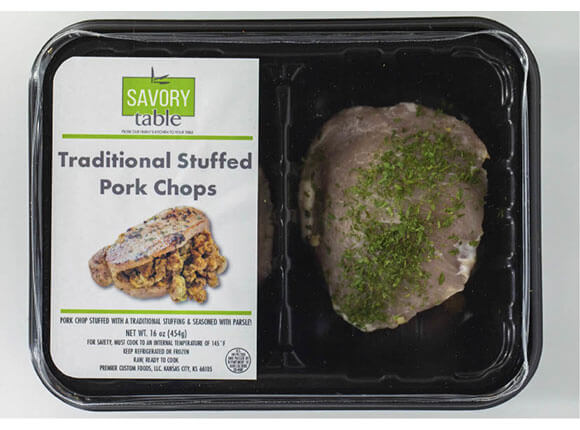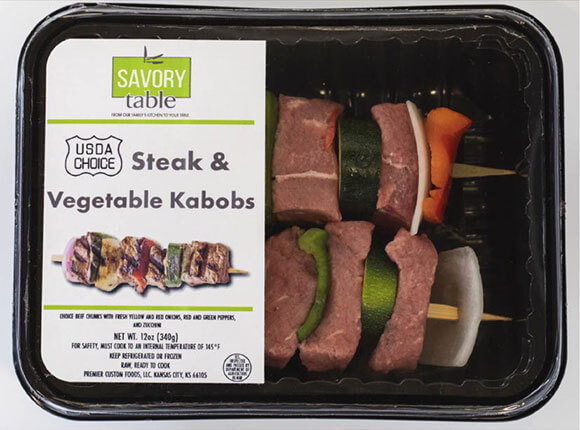 And the packaging process? Designed for the future.
Since March 2021 products such as burgers, ground meat and cuts of beef and poultry have been packed on a traysealer of the new X-line machine generation, the TX 720. "We already used T 600 traysealers from MULTIVAC in our production. But this machine model was not sufficient for the high cycle rates and special requirements that we needed for our newer applications," says the CEO.

The company therefore decided to purchase for the Kansas City site a TX 720 model of the new machine generation. Patrick Williams believes they have made the perfect choice, thanks to the high level of pack and process quality, and in particular the performance features of the machine. "And last but not least, the footprint and compact design of the TX 720 also played an important role, since we only have limited space available."
The consistently high quality of the MAP packs made a particularly good impression. This is because the innovative dies on the traysealer, the so-called X-tools, distribute the sealing forces very evenly over every tray, and this in turn ensures that a uniform and reliable packaging result is always achieved. Die recognition by means of RFID technology makes die changes even easier and more reliable, ensuring that the process is always smooth. Frequent format changes, so typical of traysealers, can be carried out in less than five minutes. If the associated racking and preheating systems are used, the die can be preheated to the required production temperature, allowing the TX 720 to be available for producing the next product immediately after the format change. Another important factor: At Premier Custom Foods around ten different types of burgers are packed in trays under modified atmosphere. The shelf life of these delicate products has to be guaranteed for 18 days.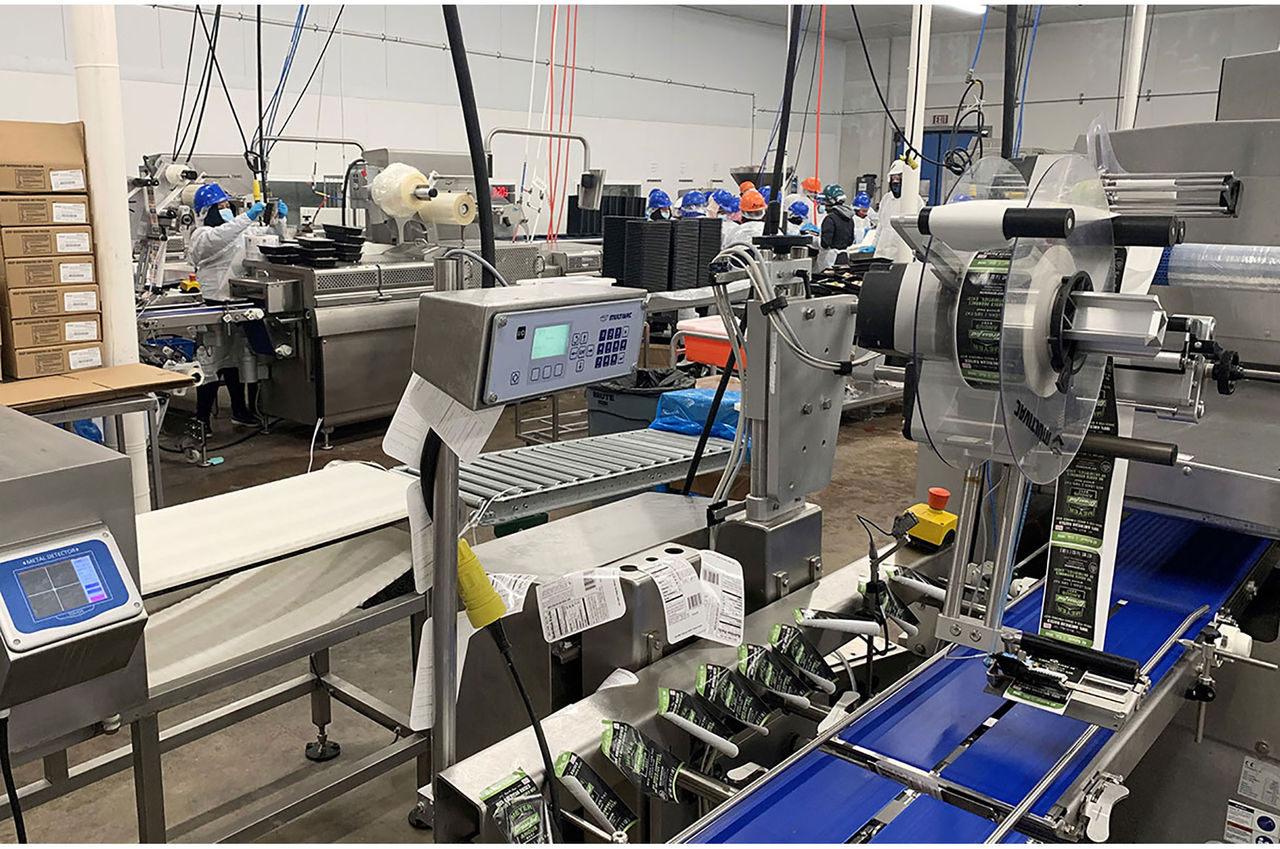 Intelligent technology for real added value
The intelligent machine control of the TX 720 with Flow Manager and Multi Sensor Control makes a major contribution to handling the different packaging tasks with the greatest possible flexibility, speed and reliability. Even at maximum output and in non-stop mode.

All of the partial processes, such as pack infeed, sealing and pack discharge, are perfectly synchronized with each other, and this creates a dynamic process, which is very gentle on the product and provides an extremely even product flow. A high-performance L 300 conveyor belt labeler from MULTIVAC was also integrated into the line for efficient top/bottom labelling of the packs at the same high cycle output.
And last but not least, the Multi-Touch machine control with its HMI 3 user interface makes operation easy thanks to animations and pre-settings, as well as quick-access and overview pages - even for less skilled machine operators.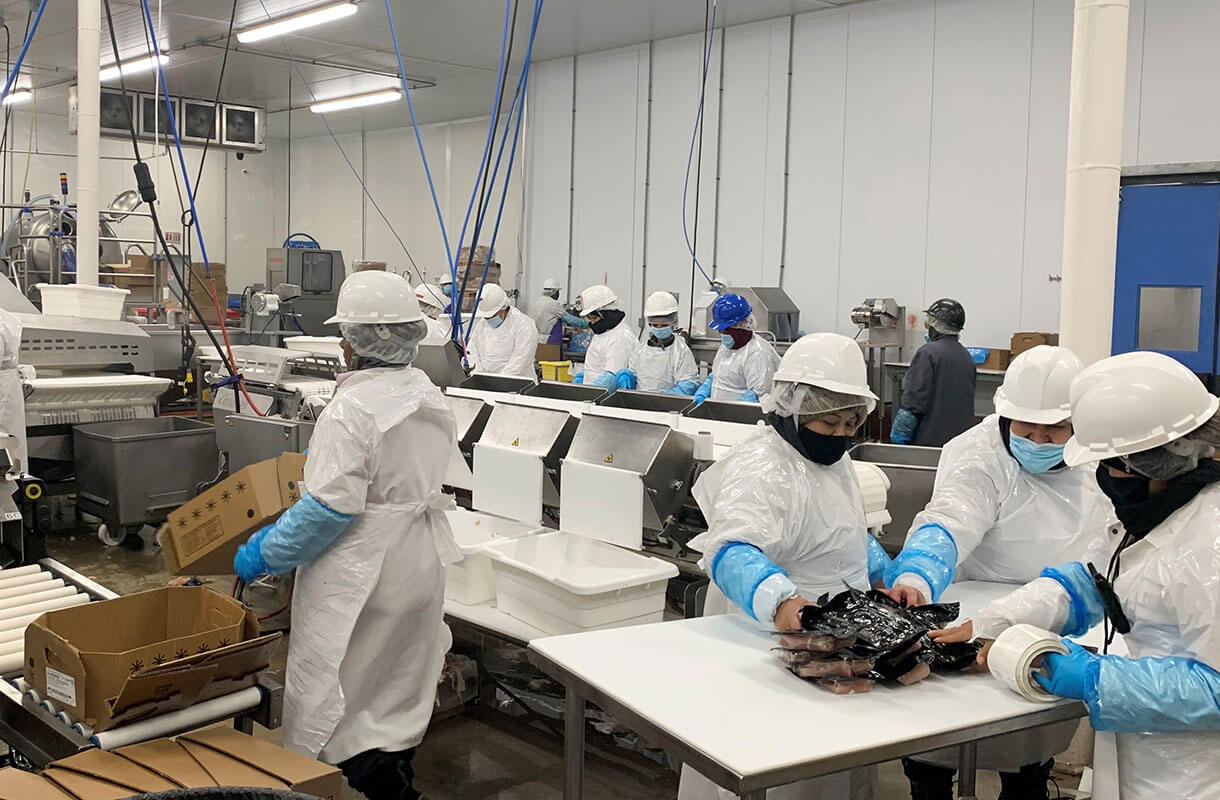 Digitalization - Driving force par excellence
The investment in the new MULTIVAC traysealer was more than a logical outcome for Premier Custom Foods. "When it comes to our top-quality products and manufacturing technology, we stake everything on innovation and preparation for the future. In our opinion, the TX 720 is currently the best machine for our existing and future requirements," says Patrick Williams summarizing the company's decision.

Thanks to its comprehensive sensor system, the traysealer offers many different benefits: The digital link enables MULTIVAC's Smart Services to be accessed from any location, and these cloud-based services and web applications provide access to process data and operating parameters from MULTIVAC, as well as a wealth of expert knowledge from the machine manufacturer. These include Smart Production Dashboard, Smart Data Backup, Smart Machine Report, Smart OEE and Log Analyzer, as well as MULTIVAC Pack Pilot.
These groundbreaking tools offer information about the current production status, and they also enable the packaging process to be monitored and optimized, as well as detecting bottlenecks and faults - and they even support operators in creating new recipes. If the TX is connected to MULTIVAC Pack Pilot, the packaging machine is already set to the optimum level, when production is started. The automatic configuration wizard provides assistance when setting the operating parameters, ensuring that good pack results are achieved from the very start of production. This also leads to significant savings as regards product, packaging materials and production time.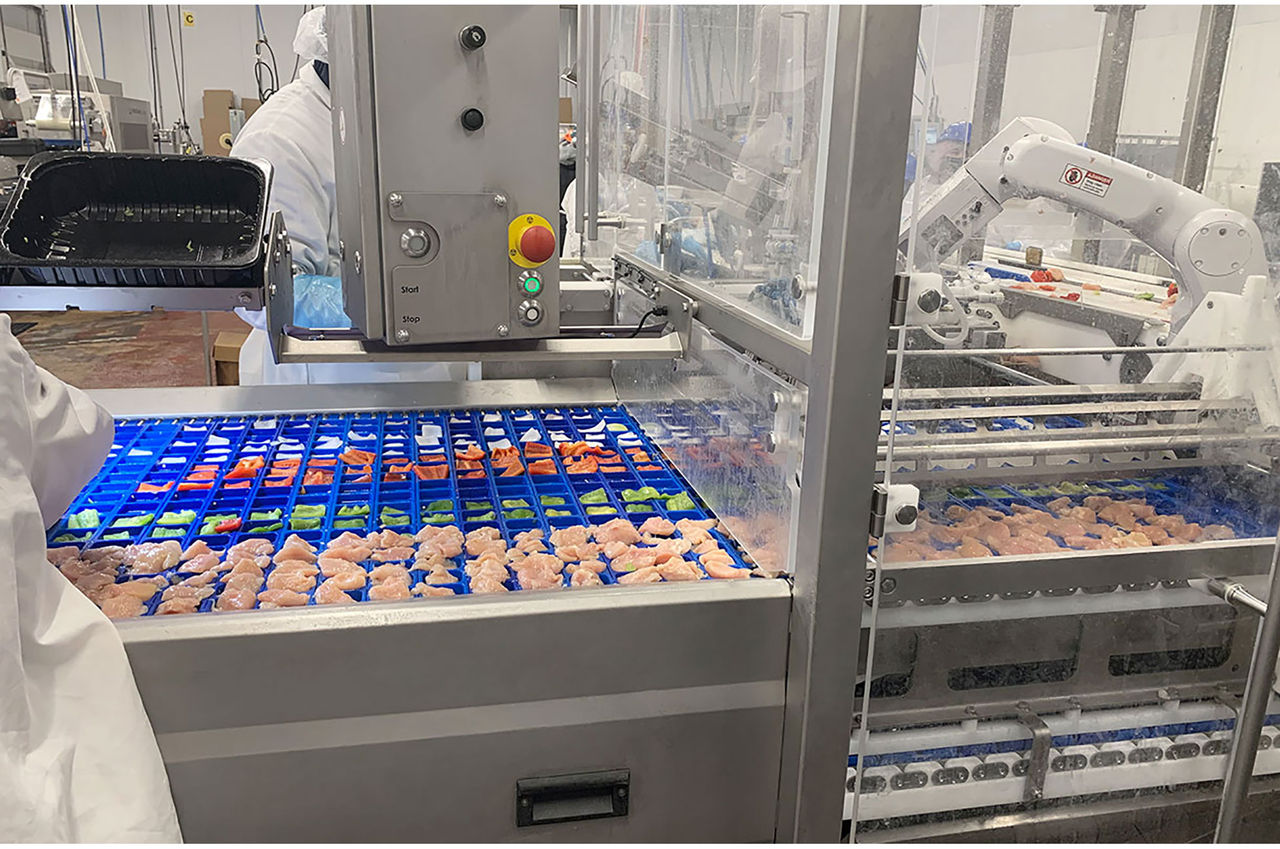 Thanks to the TVI skewering machine, the production of kebabs is more than efficient
In order to ensure that its kebab production is a highly efficient process, Premier Custom Foods also relies on a skewering machine from TVI, which has been part of the MULTIVAC Group since 2017. According to Patrick Williams, kebabs are always a particular challenge, and a consistently high skewering quality is a precondition for sales success. "Poultry meat in particular is very delicate and also extremely critical due to its consistency. The optimum balance throughout all the process stages has always previously involved a high level of effort and therefore also increased costs. The more compact beef on the other hand can be formed and processed much more easily."

Since June 2021 an ASR 300 multipick has been in operation together with a T 600 traysealer. The skewering machine performs the task of feeding in the skewers and trays, as well as attaching the products and loading them into the trays. Round skewers, paddle skewers or steel skewers are separated automatically and reliably. The robot then grips 12 skewers at a time and places the individual product components onto the skewers according to the recipe sequence, and always in precisely the same way. These are then placed into the trays, which are automatically provided, before being conveyed away. The staff can concentrate solely on preparing and positioning the products, as well as correcting anything that may not be located properly.
Thanks to this automation, the effort required by staff is reduced significantly, and the productivity of the whole process is maximized.
Success all along the line
Premier Custom Foods is extremely satisfied with the new solution. As one would expect. As both companies already enjoy many years of successful collaboration. Since 2015 this food producer has invested in a succession of different MULTIVAC traysealers and labelling systems, as well as a compact thermoforming packaging machine and a skewering machine.

Patrick Williams sums it up: "Excellent service, the best advice, optimum pack quality, maximum performance and a high level of machine availability." This company in Kansas City also appreciates the ease of cleaning and the machines' accessibility for service and maintenance purposes. "We also benefit greatly from preventative maintenance and the machines' general ease of maintenance. The MULTIVAC equipment was tailored precisely to our requirements, and it guarantees us a long lifespan as well as the highest output and reliability."
This is also a necessity, since the demand for the creative products from Premier Custom Foods is very high. The product range also continues to grow constantly. Customers always expect a special taste experience every time. "New flavors, innovative variety, seasonal highlights, and modern packaging concepts with attractive convenience features - that is what consumers want today."
This food producer also benefits from a trend, which continues to grow in importance, particularly in the USA: namely, convenience food such as marinated kebabs and filled chicken breast. The meals can be cooked easily and quickly, since additional ingredients and preparation are not required, and the cost and effort to create a delicious meal are simple and affordable.