Thanks to visual inspection systems, quality control can be automated within the packaging procedure. These systems offer added value, particularly for food-processing businesses, since all the packs in a batch can be checked seamlessly instead of random sampling. Bell Schweiz AG with its headquarters in Basel is currently evaluating a pilot inspection system with a view to major investment. Pack aktuell* spoke to the person responsible for the project.
Pack aktuell: The importance of inspection systems has increased significantly in recent years. With what areas of this technology are you engaged at present?
Julian Stotz: Automation is a central theme for Bell. It is to this end that we see generally the greatest benefit from vision control systems. As the level of automation increases, we have to be able to control inspection in such a way, that we can have automatic loaders without needing to perform visual inspections by staff at the end of the line. The objective is to be able to depict automatically the entire packaging procedure throughout the line. At the same time we must also ensure any faults during the procedure are detected quickly and reliably, even if the level of automation is very high.
Why are you so interested in visual inspection systems in particular?
Vision systems offer many benefits: one of the major benefits is the 100 % inspection and inline monitoring of every pack. We want to offer our customers a high level of pack quality. And this for every single pack not just on the basis of random sampling. At the same time we are also confronted with rising demands, and not just at the statutory level. We have to be able to adapt flexibly to certain aspects of pack labelling. Various allergens for example must be written in bold or underlined. We also of course have to ensure the required printing quality is achieved. Vision systems generally offer us many more opportunities for inspecting the individual data, whereas today we can only inspect this sporadically on a random sampling basis. With vision systems we can actually fully monitor all the data, which we want to inspect: position of the film or label, item number and designation, ingredients, allergens, price per kilo etc. This means we can inspect in real time, i.e. at normal speed on our packaging machines within the packaging procedure, and we do not have to slow the machine down or manually pick up the packs a second time and place them on another machine for inspection.
Does this also allow the quality to be improved?
We offer consumers a high level of pack quality, which we want to maintain permanently at 100 percent. This also enables us to protect ourselves against product complaints, returns, withdrawals, and recalls. It is all about maintaining the integrity of the pack and all its data. In Switzerland we are primarily confronted with the fact that we have to label the packs in multiple languages. That does not make the challenges any easier. When it comes to possible seal seam contamination, there is also a risk to the consumer. It is all about preventing damage to the brand image and monetary loss for us. Such problems are at present extremely small for us, but we are of course processing very large quantities. When one considers the high packaging speeds and production quantities over the whole year, one has to take this monetary factor into account.
What quantity of packs do you supply?
As one example, we produce around 2 million packs per week just in the Charcuterie factory in Basel alone. Within Bell Schweiz we process some 125,000 tons of material per year. It is impossible to inspect all this by means of manual visual inspections. Today we can only perform random sampling and post-packing inspection. The conflict is between the need on the one hand to keep the fault quota as low as possible and on the other hand to achieve the high speed demanded by productivity requirements. The greatest benefit would result for us, if we could inspect 100 % automatically. This means the vision system has to be fed automatically with the master data from our ERP system. Then a camera inspection system could automatically inspect every single pack.
Are there differences between the various types of pack?
There are some packs, which are very easy to inspect. Trays and other rigid packs for example have level surfaces on the top and bottom. This means the information can be easily read. In the case of flexible film packs on the other hand, the packs are often distorted or bent by the product, and this makes inspection considerably more difficult. In such cases we have to see what can sensibly be inspected. With our current system we have end-of-line inspection. This only works however with rigid packs, which can be guided in a straight line. In the case of distorted packs with curvature, camera systems are currently at their limits.
What is the current state at Bell as regards inspection systems?
We are currently using a pilot system for vision inspection, and we have already accumulated some experience with this system. Now it is a question of expanding the system. We are also looking at the MULTIVAC system in more detail, because we are of course interested in finding exactly the right solution for us. There are stand-alone solutions downstream of the packaging machine as well as those, which are integrated into the machine itself. We have to see, which solution is best suited to each pack. There is not one solution for all packs, but rather an individual decision in each case. With certain products we have a risk of contamination, for example with diced bacon. Here we use rigid trays, which we can inspect completely at the end of the line for all the data and for any contamination of the seal seam. In the case of other products, such as those with larger pieces, it is a big issue.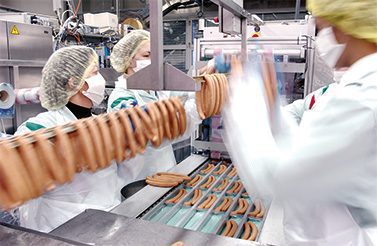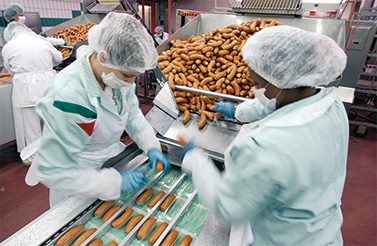 How do you currently inspect?
We want to handle the camera inspection systems efficiently and also carry out inspection as late as possible in the supply chain. The best place is just before the packs leave the line for dispatch, when we no longer have to handle the product. That can be done easily with MAP rigid trays. Here we can inspect for foreign bodies and check the data right at the end of the line, before the products are dispatched. For every product we carry out an analysis of risk and potential sources of faults. We consider, where we can actually inspect with camera systems and where it makes sense. There is no pre-made solution for all products. For some products we may even come to the conclusion that it is not worth using camera inspection systems due to the low level of risk.
What challenges are there with vision systems?
The best system is only of benefit if the people on the line can also operate it. We need trained people who can handle the systems. Otherwise even the best systems can not provide reliable inspection. Only with trained staff can we extract benefit from vision systems. Ultimately however, we will not have camera inspection on every packaging line. We have to see, where it is sensible. The deciding factors are the location, pack quantity and above all the risk.
Which materials do you run?
We have a great diversity of packaging materials, so vision inspection will also help us to avoid the risk of mixing up packaging materials. Inspection technology enables us to make sure the correct product is packed with the right packaging material. We have pre-printed materials, which are of course inspected by the manufacturer or printer. But even here where others print the material for us, we have the ultimate responsibility towards the customer. We also of course print data on the packs ourselves. Here we are solely responsible for ensuring the data is correct.
How many different materials are there?
We use around 200 different pre-printed films and up to 2,000 different types of labels, including decorative labels, price promotion labels and food profile labels. In addition to this, there are outer boxes and folding cartons, which are also printed. The biggest challenge is ensuring no faults arise in the internal supply chain. It is at the end of the packaging line, before the packs leave for dispatch, that we have the last and only opportunity to inspect all the data.
How do you see the partnership with MULTIVAC?
We are reliant on strong partners, who bring a high level of know-how with them, and who can actively support us as a meat producer. This partner must for example have a remote help system, as well as operate a hotline, and have technicians available around the clock. There is no point in purchasing a cheap system from a supplier who can barely offer any service. The whole package has to be right. Today we work very intensively with MULTIVAC thermoforming packaging machines, and the vision systems from MULTIVAC operate of course with the same HMI user interface. Our production staff are therefore familiar with the menu guidance, as well as being used to the machines and their display, so that they know how to operate them. Naturally we want to make it as easy as possible for our operators.
When is the investment due to take place?
The investment should be starting in the near future. We are already beyond the phase of the preliminary study for the project. Our production quantities will continue to rise and we will therefore be producing more packs. This means we need to create the technical basis for improving the current situation still further. Growth must not lead to quality suffering. On the contrary: quality should rise with the growth in quantity. We are of course subjected to great competitive pressure and must therefore be able to stand out from the competition. The investment in visual inspection systems is a longer-term project. It has currently not yet been established, how quickly the project can be implemented, but we are assuming a project duration of several years. But we are currently on a good footing.
What system have you decided on?
We currently have a pilot system from one manufacturer in use. But we are now looking at the I 410 and I 420 systems from MULTIVAC, since these also meet our needs.

Martin Zimmerli, Head of Swiss Market at MULTIVAC Export AG: MULTIVAC has already accumulated a lot of experience with this system throughout the world. In Switzerland we have already sold several systems in conjunction with labelling equipment. One system is already running at a company within the Bell Group. We are constantly expanding our Service teams to meet changing requirements and to ensure customer satisfaction here in Switzerland is maintained.