"The entry into thermoforming packing was an important, strategic step for us."
Knorrevången Slakt AB in the Swedish town of Gilmåkra is one of the ten largest slaughtering companies in the country. The slaughtered animals are supplied either whole or in sections to the wholesale trade, but a large part of the fresh meat is also supplied pre-portioned to processing companies. There it is further processed into a wide range of sausage, ham, and meat products. Thanks to the purchase of a compact thermoforming packaging machine, Knorrevången has now also been able to open up the B2C market.
Since 2016 Mikael Dahl and his wife have been running the business and now employ around 25 staff, as well as additional butchers who support the core workforce at peak times. The company processes some 500 horses, 1,000 cattle, 2,000 lambs and 24,000 pigs annually – this makes up approximately one percent of the Swedish pork market.
The meat products were previously packed in film pouches on a double chamber machine. In order to protect the pouch packs against leaks, so-called "bone guards" were also used as a protection against bones, and these were placed over the exposed bones to prevent the pouch material being damaged and punctured.
Mikael Dahl, who is also responsible for sales and purchasing in addition to his role as CEO, does not however see the future of his business as being solely in the wholesale trade. He is convinced that new customer potential can be opened up in the catering industry, hotel chains and smaller agrarian producers – as long as his processing and packaging procedures are ideally designed for the needs of the new target groups. "It is not enough to simply increase the output quantity. The driving force in this phase of our considerations was the question of how we could process the meat to appeal to the target groups by reducing the portion and pack sizes, while at the same time also doing this cost-effectively."
The decision was ultimately made to invest in a new packaging machine, the R 085 e-concept from MULTIVAC. "For us this also meant the entry into new packaging technology – from packing in film pouches to thermoforming packaging. This was an important strategic step for our company," adds Mikael Dahl. The company had not worked with MULTIVAC up to that time, but "we have never regretted the decision, since everything ran perfectly from the start of the project to putting the machine into service."
The R 085 e-concept is a compact thermoforming packaging machine, which is characterised by its very small footprint. It offers an outstanding price-performance ratio and enables smaller processors and packers to get into automatic packing. The machine does not require water or compressed air connections, and it can be used very flexibly at various locations within the production environment, since its positioning is not dependent on service connections. In addition to this, it also contributes significantly to saving resources in the packaging procedure.
Thanks to its intuitive user interface, the R 085 can also be operated by personnel with little experience. It is suitable for producing a wide range of packs for meat and sausage products. It can run flexible and rigid films up to a width of 420 mm. The maximum forming depth is 80 mm, while the maximum cut-off length (without preheating) is 300 mm. Vacuum packs, as well as inert gas packs, can be produced in different formats.
Optimum efficiency and cost-effectiveness
At Knorrevången a wide range of packs is now produced on the R 085 e-concept for various target groups. Products for both the B2B and B2C markets are attractively packaged in practical vacuum packs for the wholesale trade and end customers. The standard dies on the machine enable up to twelve square-cut packs to be produced on a film width of 420 mm.
The efficiency of the packaging procedure has also increased significantly. "The time taken for packing on the previous double chamber machine was enormous. This resulted in frequent bottlenecks in production," recalls the company boss. Now three to four times the quantity of product can be packed on the thermoforming packaging machine in the time, which was previously required for packing on the double chamber machine. A further benefit: The total material costs per pack have been reduced by about two thirds. "This represents around 100,000 Swedish krona per year, which equates to some 10,000 euros."
The machine is equipped with two standard format sets, which enable packs for virtually all the meat cuts to be produced with ease, particularly for the pork cuts. However, the R 085 can not be used for the large beef cuts. The previously used double chamber machine is utilised for this purpose due to its large chamber size.
As regards the packaging material on the R 085, Mikael Dahl has opted for a film with high puncture resistance, which is also suitable for packing products with sharp edges, such as meat that contains bone. This means bone guards are no longer required. Why was such a material not used before at Knorrevången for the pouch packs? "We are learning step-by-step, how we can optimise our process stages and technology, as well as our products."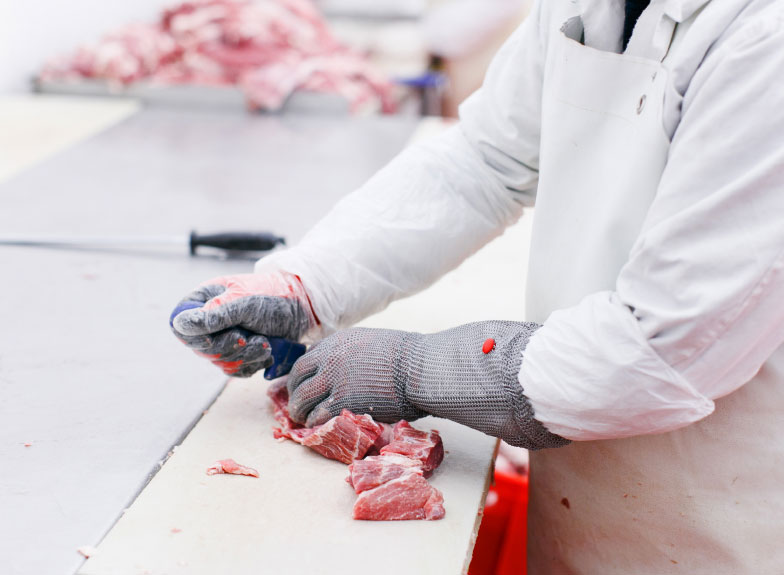 Ease of use in the working procedures
The R 085 is also particularly highly regarded, because it can be operated in several languages. "We are an international team. The different language settings not only make training for our staff on the machine easier but also the daily working procedures. This also of course improves safety, and operating errors are largely prevented," says CEO Mikael Dahl. He also highly appreciates the fact that the positioning of the machine is not dependent on compressed air or water connections. The R 085 e-concept can be utilised flexibly as a plug-and-play solution within the whole production environment, and it can also be readily moved for optimum ease of cleaning.
The current production volume also meets all expectations. However, further production increases are also anticipated. "Now Knorrevången knows, that meat can be packed very cost-effectively, and that even large volumes can be produced on a compact machine," says Christoffer Andersson, who was responsible at MULTIVAC Sweden for implementing this project.