Turkey farm installs packaging line from MULTIVAC
No one knows better than Hayter's Farm that a true Thanksgiving dinner is incomplete without a perfectly cooked stuffed turkey. For over 70 years, the family-run turkey farm, located in the town of Dashwood in the Canadian province of Ontario, has been dedicated to the sustainable growth of its business by adopting innovative rearing methods.
Hayter's Farm is best known for its classic whole turkeys and roasts, but it also offers turkey breast fillets and turkey kebabs, as well as turkey bacon and turkey burgers. A large part of the company's retail products is sold throughout the province by established supermarket chains. Hayter's Farm also provides private-label products for Longo's grocery stores and meal delivery services such, as HelloFresh and Chef's Plate.
"Establishing ourselves didn't happen overnight, it was a process that took many years," says Sean Maguire. He is not only the Sales & Operations Manager, but also the grandson of the company's founder, Harry Hayter. "The company's growth was a slow and cautious process. Over the years we have established partnerships, and it is thanks to these that we continue to grow. The family aspect to all of our decision-making, as well as working with our staff and team and keeping this family culture moving - that is our greatest success."
Employing around 85 full-time staff in one shift over five days a week, the 45,000 m² factory is certified to all the relevant HACCP (Hazard Analysis Critical Control Points) compliance requirements of the CFIA (Canadian Food Inspection Agency), as well as being accredited to the internationally recognized BRC (British Retail Consortium) and Halal certification for food safety. The company has also received the GAP (Global Animal Protection) certification for all levels from farm to factory - a process that lasted a year. In addition to this, all meat products are free from added hormones and steroids. "We are providing a product which consumers will be feeding to their families and children," explains Sean Maguire. "And consumers demand that food safety is always at the forefront."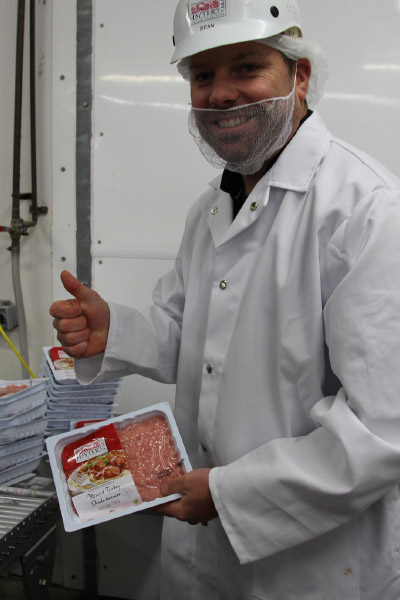 Even where Hayter's Farm is not competing directly with other turkey processors, the company is in competition with other sources of protein, since turkey meat is a naturally leaner and healthier supplier of protein. "Turkey is an alternative to mainstream beef - and we think that we fit very well into this alternative sector," says Sean Maguire. "Our competitors are the other suppliers of proteins: we're up against chicken, beef and pork, and they are tough protein competitors to crack in these markets. Our objective is to have more consumers eating turkey regularly," adds Sean Maguire. "Those are our challenges and hurdles, that is our everyday battle."
Hayter's Farm is, up to now, the only state-inspected turkey farm in Canada which both rears its birds and processes them on-site. The family company is able to ensure the best practices for its turkeys, the environment and its customers - thanks to its management of every stage in the process.
It is particularly during the Thanksgiving and Christmas season that Sean Maguire and his team really count on the machinery in the factory to meet the demand of the peak season. As Sean Maguire says, "Modernising the production line was a process that lasted almost two years." "It took a long time to come up with exactly what would fit our needs," he explains.
Sean Maguire and his team did not have to search far when it came to researching the investment: for more than 15 years, MULTIVAC Canada Inc. had been a partner of Hayter's Farm, which was one of the first companies in Canada to purchase the MULTIVAC T 700 traysealer. It was due to their very positive experience with this packaging machine, that Sean Maguire and his team looked for a machine that would be equally reliable and flexible. "MULTIVAC gave us all the options and suggested, that we visit other customers so they could show us their packaging solutions," recalls Sean Maguire.
Thanks to MULTIVAC's guidance and expertise, a R 245 thermoforming packaging machine was subsequently installed at Hayter's Farm in March 2019. "It's a very reliable piece of equipment," says Sean Maguire. "When new technology is introduced, there is always a learning curve to be overcome, but once you understand the system it becomes very reliable. The R 245 machine is a new technology for us. Previously we used to work with pre-formed trays, whereas now the pack cavities are produced in-line." The company has been highly impressed with the R 245 thermoforming packaging machine thanks to its versatility, flexibility and efficiency.
"Consumers are becoming more savvy as time goes on, and they place ever greater demands on processors like us. For us, the R 245 was the best solution for the next ten to fifteen years, allowing us to keep pace with technology and the packaging requirements. "It gives us scope for growth and offers us the flexibility that we need."
Hayter's Farm slaughters its turkeys on two days of the week. The fresh meat then goes through a grinding and mixing process with spices before it is sent onwards to various other machines. The stuffed portions are created using high-quality equipment, such as meat portioning machines and fillers supplied by MULTIVAC's long-time partner, Handtmann Canada Ltd. Using other equipment, operators can also produce burgers, sausages and turkey mince, as well as portioned fillets and marinated products. The turkey meat is then conveyed to the R 245 thermoforming packaging machine, which uses film supplied by MULTIVAC to produce the thermoformed packs.
Based on consumer preference, Hayter's Farm now produces predominantly MAP packs or vacuum packs for its turkey products. After the products have been packaged, an inkjet printer from BELL-MARK prints barcodes and other important product data onto the finished packs. These are then packed manually into corrugated cardboard boxes, before being transported to the retailers for sale.
Within the first six months after the installation of the R 245 thermoforming packaging machine, Hayter's Farm recorded a fifty percent increase in capacity – and the throughput was doubled with an output of up to 64 packs per minute.
Sean Maguire also sees great potential in the partnership with MULTIVAC. MULTIVAC spared no effort in ensuring the investment in a new packaging solution would be a positive experience. "They are always there to help when needed, and they work things through with us. They are also willing to involve other parties, whom they know and who can help us in overcoming any issues," explains Sean Maguire. "At the end of the day, MULTIVAC makes sure you are getting the product you really need. Any machine occasionally presents the operating company with challenges. The MULTIVAC team has always been on hand and willing to help us. Although the drive time to us is about two and a half hours, they always manage to get here fairly quickly."
Sean Maguire is confident that, when it comes to their level of technology, Hayter's Farm is now as set up as it is possible to be. But he is also sure that, if required in future to increase capacity, he would purchase further MULTIVAC solutions to double the number of lines or introduce other technology. "I would not hesitate to add another MULTIVAC machine and operate it in parallel, or purchase further equipment from MULTIVAC, which complements this solution," says Sean Maguire with confidence. "I have no reservations about that at all."