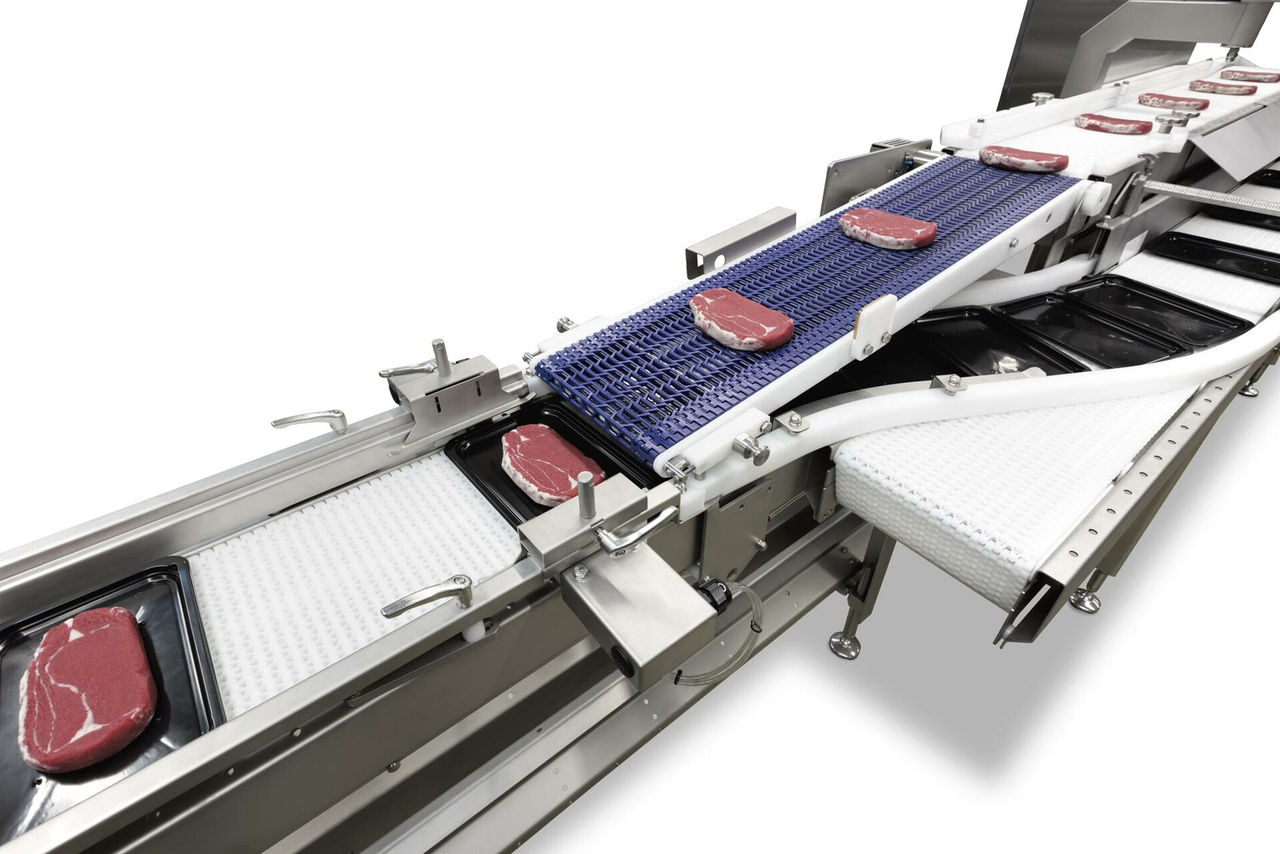 Automatic loading of sausage and meat products into the packaging machine
Today practically every stage in the processing and packing of meat and sausage products can be automated. But different products such as sliced meats, sausages or fresh meat require individual solutions. In the following article there are descriptions of the possible options for feeding and loading products efficiently and gently into the pack cavities.
Depending on the particular product and type of pack required, as well as the level of output needed and the space available, there is a wide range of solutions on offer to companies in the meat processing industry. Optimum product flow demands, that all the modules of a packaging line are linked intelligently and controlled at one overriding level. Today's integrated and highly efficient packaging lines are therefore designed in such a way, that all the system components are perfectly matched to each other. This ensures that not only is a precise, reproducible and transparent process achieved, but also that time and effort by staff is reduced. But which solutions are best suited to the particular product?
Innovative belt loading system for sliced products - MULTIVAC Horizontal Loader
The MULTIVAC Horizontal Loader, a hygienic loading system, which is very gentle on the product, was developed to transfer a wide range of sliced products efficiently from the slicer into the thermoformed pack cavities. Thanks to the space-saving infeed design, the loading conveyor of the slicer can be placed horizontally at the height of the film level, which means that the length of the complete line is reduced significantly. The loading is therefore more efficient and hygienic, since fewer products have to be adjusted by hand afterwards. One single overriding machine control makes handling of the equipment much easier. Short conversion times enable a wide variety of products and packs to be run. A throughput of up to 200 portions per minute can be handled with the MULTIVAC Horizontal Loader.
Robot-based loading of sliced products for maximum flexibility and efficiency
Complex slicing and packaging tasks do however require sophisticated process structures. If a wide range of pack types or a high level of flexibility in pack shapes and dimensions is required, it is possible to use robot solutions for loading the products. Thanks to their speed, flexibility and precision, robots make a major contribution to higher levels of efficiency, quality and improved hygiene in the packaging procedure.
The features of MULTIVAC's handling modules are maximum flexibility and the particularly efficient and gentle loading of all sliced products. Depending on the required functions and output, these handling modules can be equipped individually with two-, three-, or four-axis robots and appropriate gripper systems. The modules can be used very flexibly for a wide variety of products, pack formats and cycle times. As the most simple form of presentation, individual portions can be packed in one or more stacks. It is also however possible to create more complex loading patterns – even wafer-thin sausage or cheese slices can be shingled in multiple staggered or overlapping rows, or arranged in a round or oval shape. Thanks to the MULTIVAC Hygienic Design™, they meet the very high requirements of the food industry.
Loading solutions for sausages – MULTIVAC Centrifuge Feeder
The automated loading of small sausages places particularly high demands on the packaging procedure, since the products are generally unsorted when they are fed to the machine.
MULTIVAC has developed a hygienic and efficient solution, which is also very gentle on the product, for infeeding and loading straight sausages, and this solution was presented for the first time at IFFA 2016. The MULTIVAC Centrifuge Feeder (MCF) can be integrated seamlessly into packaging lines and enables handling costs to be reduced by up to 60 percent when compared with manual loading.
The solution comprises five high-performance components: the sausages are transported via an inclined conveyor to the centrifuge plate that is constantly turning. There they are orientated at the outside edge of the plate by the centrifugal force and are taken up individually from the centrifuge ring. Then a V conveyor transports them to a downstream compartment conveyor that carries each product, individually and precisely aligned in a separate compartment, to the handling module. There the gripper picks up the desired number of sausages and loads them into the pack cavity.
Up to 600 sausages per minute can be gently separated and loaded by the sausage centrifuge feeder. The output can be adjusted as required by means of the rotation speed. If even greater volumes are required, it is possible to use several of these modules on one packaging machine, so that virtually any capacity can be scaled up. This solution can be used very flexibly, and it is suitable for single-layer and multi-layer packs with any number and orientation of sausages.
The MULTIVAC Centrifuge Feeder is available in either a left or right rotating version, so that with a wide range of possible line layouts the optimum space utilisation can be achieved. All the components are produced in the MULTIVAC Hygienic Design™ and can therefore be cleaned simply and reliably. Thanks to the automated process, human contact with the delicate products is also minimised – an important contribution to hygiene in the packaging procedure.
If small curved sausages need to be loaded, MULTIVAC can count on alternative concepts, in which each sausage is picked individually by a robot. This allows the sausages to be aligned according to their curvature, and this in turn minimises the space required in the pack. The main feature of a loading solution designed in this way is the high level of versatility as regards products, pack shapes and loading patterns. Short conversion times enable the handling solution to be very efficient, even if there is a wide range of products.
Loading solutions for fresh meat – FPS 500 multitray and AIF 500 directload from TVI
The range of suitable loading solutions for fresh meat covers a large number of line concepts. The portions can be packed on either thermoforming packaging machines or traysealers.
The FPS 500 multitray line from TVI, which is made up of several individual and perfectly matched modules, is particularly suited to automatically loading smaller fresh meat slices and cuts at very precise weights into trays or thermoformed pack cavities. The ergonomically designed manual loading area offers lengths of three or four metres, and it consists of a denester, the meat conveyor, the tray conveyor and an optional centering unit. The portioned slices are transferred from the particular portioning system to the meat conveyor. The possibilities range from individual or overlapping slices right up to fully shingled fresh meat portions. Marinated meat slices can also be loaded as stacked or shingled into the pack cavities by means of a moving loading system, which has been patented by TVI and uses a suitable loading grid, so that there are no drops from the product during loading. The system can easily be combined with up to three such loaders to produce a high-output line.
If the thermoformed pack cavities or trays are to be loaded automatically, the AIF 500 directload from TVI with its knife edge belt can be used. The filled trays then run into a weighing and post-processing unit for fixed-weight portions. There the weights are checked on a checkweigher. The portions, which are too light or too heavy, are pushed onto separate buffer conveyors by means of pushers, from where they are conveyed to a post-processing station for manual weight correction. The correct-weight portions are fed directly to the packaging machine.
Thanks to their modular construction, it is possible to add to the lines, which can then be used even more flexibly for different products. In the case of traysealers, it is possible to use a variety of tray formats. Depending on the tray size, the tray output is up to 60 per minute.
If large pieces of meat need to be loaded, the infeed systems and handling modules as well as the packaging machine have to be designed for the heavy weight of the portions. The film can for example be supported in the thermoforming packaging machine by means of metal rods, so that the optimum packaging result is achieved.
Integrated solutions from one source
Intelligently designed packaging lines can be adapted flexibly to the needs of the particular company. The success of such a solution is based on a line concept, which meets every requirement and guarantees the perfect interaction of all the line components. A fundamental factor in this success is that the slicer or portioner as well as the loading solution and packaging machine run via a uniform control platform.
As a supplier of complete solutions, MULTIVAC offers its customers significant added value, since the company is constantly striving to optimise the degree of integration of its slicers and portioners into automated packaging lines.