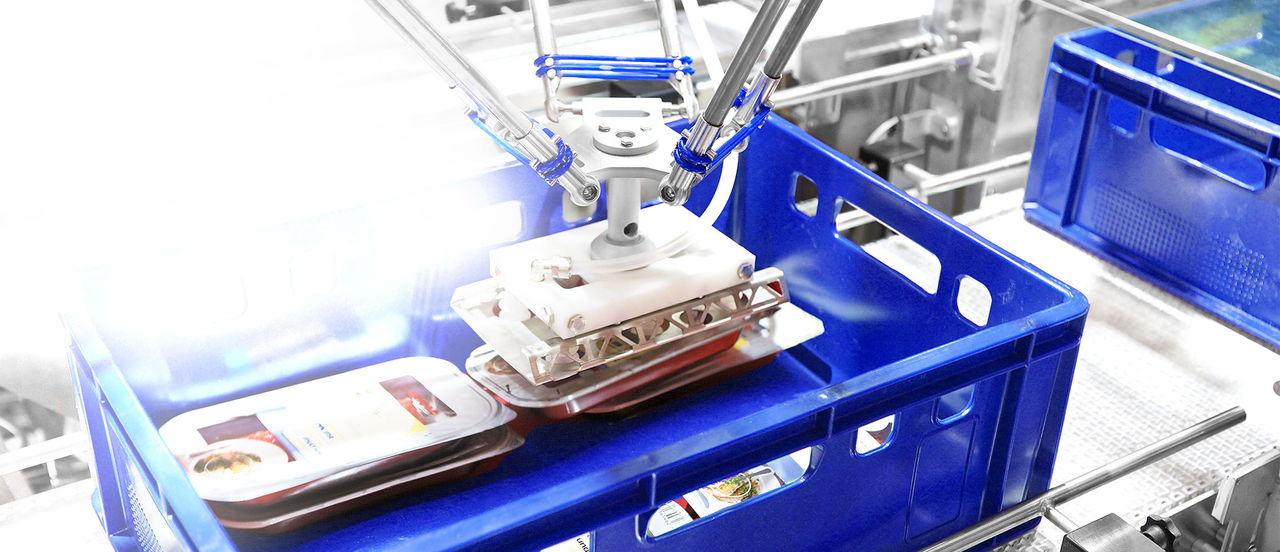 MULTIVAC solutions for secondary packaging – highly efficient and reliable to the end of the line
When it comes to loading packs into boxes or crates, and grouping or converging packs, MULTIVAC offers a wide range of end-of-line solutions, which are very flexible to use and which are individually designed to customer requirements. They can be used to automate quickly and precisely a wide range of tasks for a variety of products, pack formats, weights, and cycle times. They are also very reliable in their targeted ejection of empty or reject packs, and this contributes significantly to increasing process reliability and line efficiency.
Most primary packaged products are packed in secondary packaging for simple handling during the logistics process. The loading of packs into boxes can generally be automated very well – and it is particularly economic for companies, which operate on a multiple shift basis, since the investment costs can be amortised very quickly.
An even product flow is essential for the efficient use of end-of-line solutions
The efficiency and reliability of the end-of-line process is critically influenced by the upstream converging process, for example after thermoforming of the packs. In order to be able to use the capacity of the end-of-line equipment to its optimum potential, it is necessary above all to have an even product flow and a reliable ejection of empty or reject packs. These aspects must be taken into account when investing in a converging solution. MULTIVAC offers a variety of solutions for a wide range of customer requirements, and these solutions cover all conceivable production scenarios, as well as ensuring a high level of process reliability is achieved.
MULTIVAC offers many different concepts for the automatic loading of packs into boxes or crates - loading from above, from the side or a combination of both. The fully automatic solutions can be customised to the individual needs of the customer as regards the required performance and the specific space available.
Automatic stacking of packs
In addition to this, MULTIVAC also offers simple, semi-automatic systems for automatically stacking packs, which are subsequently loaded manually into boxes. By using this so-called Pack Stacker, the time involved in outer packaging can be reduced by up to 50 percent. This equipment can be used for thermoformed packs and tray packs, which have an even top surface and underside. and which are fed to the unit in a single track. The systems are integrated into automatic packaging lines downstream of the labelling and inspection systems, and they can stack at up to 120 packs per minute.
Maximum flexibility, reliability, and efficiency can also be achieved through the use of robot-based palletising solutions. Here MULTIVAC's wide product range also enables the modular equipment to be ideally matched to the particular requirements in terms of product, capacity, footprint and upstream processes.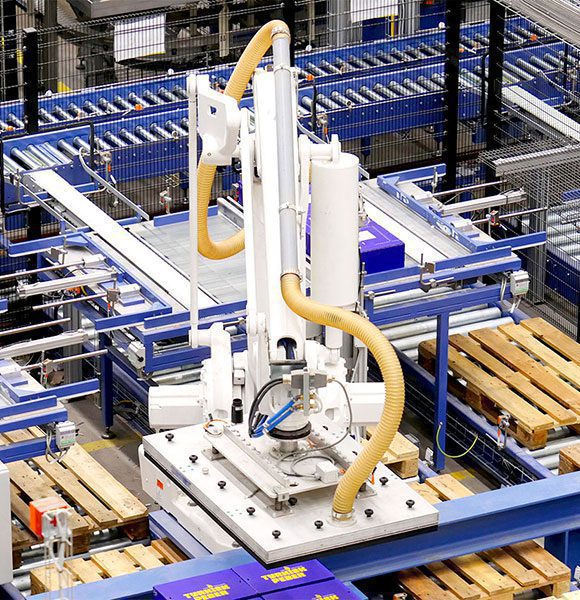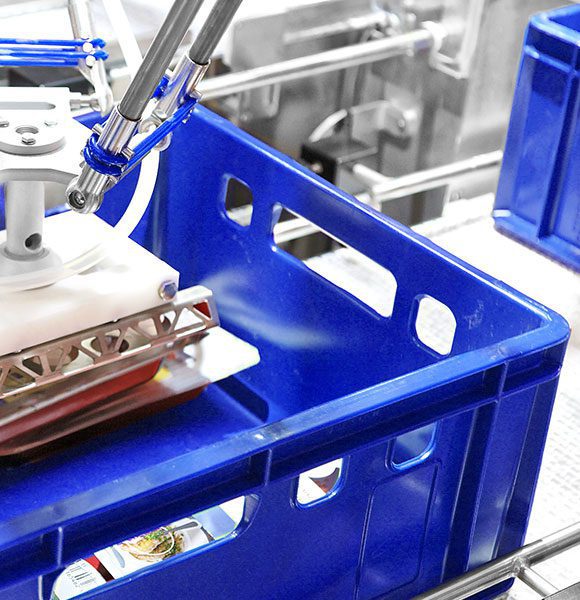 Retrofitting? Yes, of course.
All the automation solutions for secondary packaging can be easily retrofitted and integrated into existing packaging lines. Thanks to their modular construction, the components can be individually designed to the requirements of the particular project and local conditions. If required, MULTIVAC will also develop special solutions specific to the project.
And when it comes to designing complete packaging lines, the focus is no longer just on the primary packaging or upstream process equipment, but increasingly on the end-of-line area, as well. New complete line solutions offer the benefit and assurance that, thanks to the packaging line being considered as an integrated whole at the concept phase, the individual processes and modules can be coordinated to the optimum extent. This means the capacity of the individual machines and the sequences throughout the entire line can be optimised.
As an option, all the system components can be controlled via the MULTIVAC Line Control (MLC). This higher-level control unit ensures all the processes are optimised as regards their timing, and that they are precise, reproducible, and transparent. It can communicate information about the status, process values and location of the products and packs to higher-level systems at any point in time - and packaging lines can, in turn, obtain data from the higher-level systems. Evaluation of this information allows companies to optimise for example their material use and to coordinate their material procurement based on current data, as well as carrying out servicing work with only minimal impact on their ongoing production. In the interests of interconnecting all line processes, which is the central component of Industry 4.0 strategies, MLC can also be linked to manufacturing execution systems (MES) for controlling production, as well as to enterprise resource planning (ERP) programs and other systems for acquiring machine and production data.