MULTIVAC full wrap labelling for your best results
Full wrap labelling solutions stand out clearly from other types of labelling on the shelf.
The right labelling solution for every type of pack
Whatever packaging you want to label, full wrap labelling solutions are designed very flexibly for a wide range of pack shapes and materials. Labelling has an essential role in product awareness, whether it is skin packs with unprinted upper webs, MAP thermoformed packs, or trays with a wide variety of shapes. In the case of hinged blisters or clamshell trays, the label prevents the pack from unintentionally springing open, ensuring the product's integrity is preserved. As a result, they consistently achieve an optimum result, which stands out attractively at the point of sale.
Wide range of label shapes
In the case of self-adhesive labels, almost all shapes are possible since the backing paper holds them during the labelling process. Whether cut-outs or curves, you can flexibly and harmoniously adapt your labels to your products and packs. Even a 360° wrap-around and overlapping ends of labels can be achieved.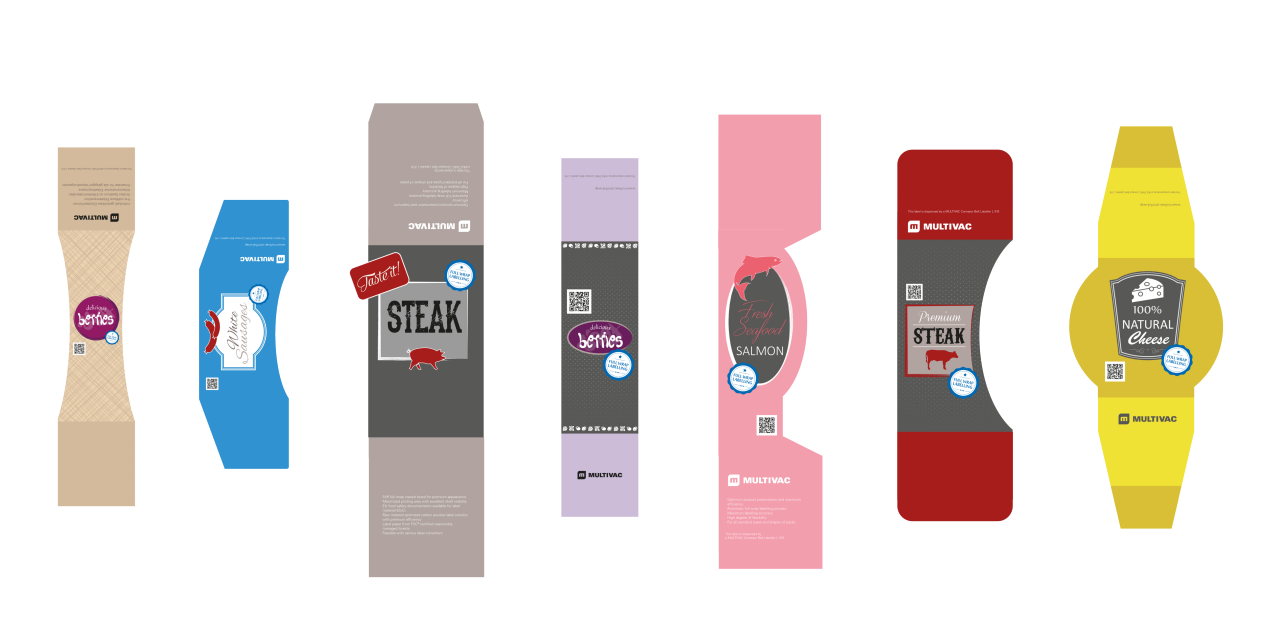 Large selection of materials
In contrast to conventional labelling solutions, the self-adhesive labels offer one significant benefit: they can select a wide range of materials since the backing paper is stabilized. Sustainability is also ensured: the leading manufacturers of self-adhesive labels have set up comprehensive recycling programs for disposing of the carrier materials.
Lots of space for communication with a clear view of your product
Full wrap labels offer an advantage of this benefit and a large area for information on the product. You can also select transparent labels to present the product in the pack. And since food packs are frequently stacked on supermarket shelves, full wrap labelling increases visibility on the shelf since the label also runs over the side of the package.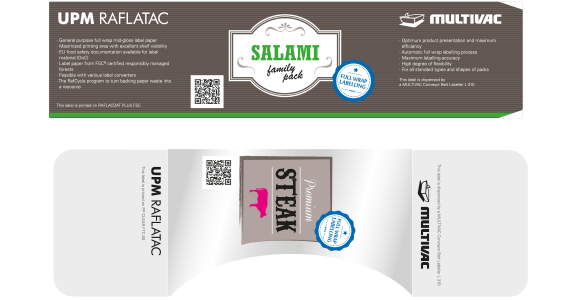 Full wrap labels are versatile in their configuration: they offer additional functions and increase user-friendliness in addition to their numerous options to differentiate your packaged products at the point of sale.
Easy opening
Adhesive-free areas and perforations make removing the label and opening the pack simple.
Anti-tampering protection
Full wrap labels can also provide anti-tampering protection since the consumer would immediately recognize a pack that had been tampered with or had already opened.
Area for additional information
Additional information for the user such as recipes, cooking tips, and advertising material can be placed on the back of the label.