Packaging expertise in top form
25/07/2022

MULTIVAC at FachPack 2022 (Hall 1, Stand 221)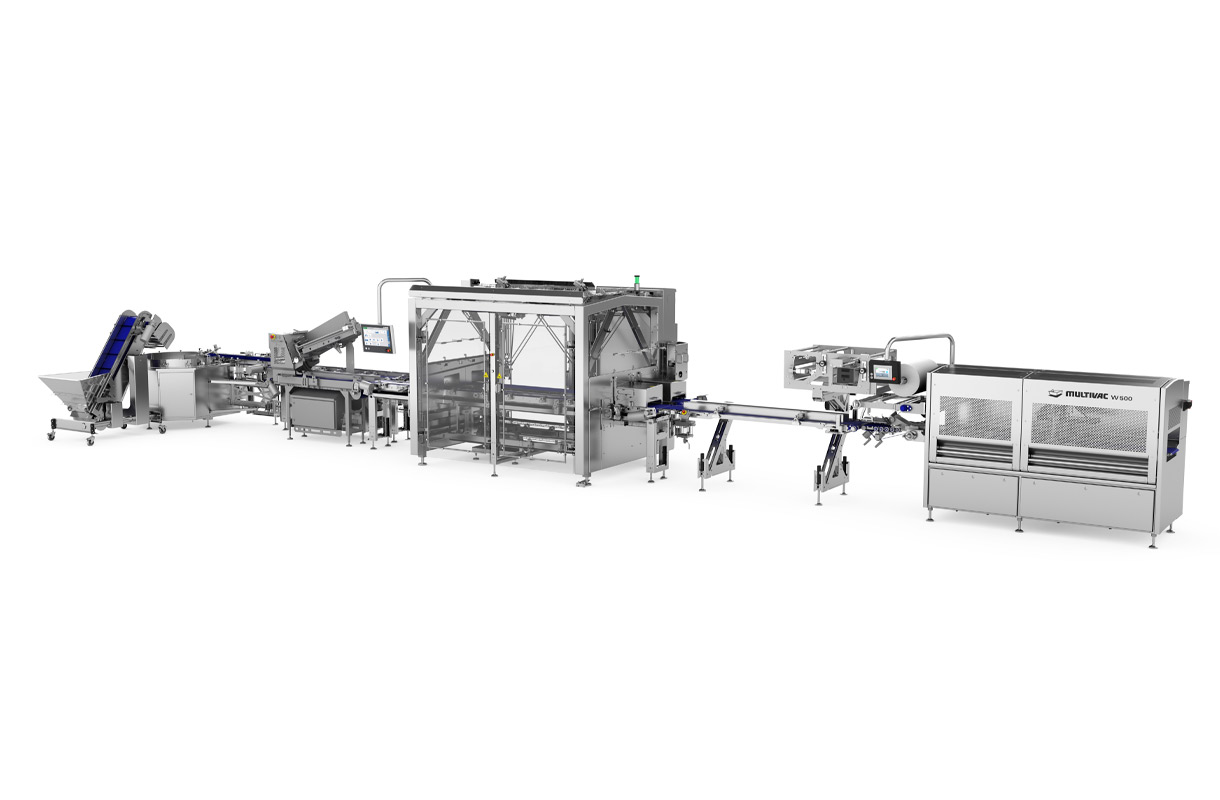 Exhibiting over a total area of around 300 m2 in Nuremberg, MULTIVAC will be showing a representative cross section of its comprehensive range of products and services, as well as evidence of its accumulated expertise in automation and complete lines. The central topics are: Efficient and sustainable packaging of food, expert advice on all aspects of packaging, as well as the company's labelling, marking and inspection solutions, together with packaging materials and finally digital products and services. Two new machine developments - a flowpacker and the innovative R3 thermoforming packaging machine - send a strong signal to the market.
By placing the focus on these aspects at the exhibition, MULTIVAC is serving the current requirements of the market very directly. The highlights in the food sector include various line concepts, as well as a full wrap labeller with weigh price marking.
Centrifuge line with the new W 500 flowpacker for vegan burgers
Among the exhibits for the meat industry and manufacturers of alternative proteins, there will be a space-saving line for the automatic arranging, infeeding, packaging and labelling of vegan burgers on a cardboard tray in a practical and very material-efficient flowpack. While a centrifuge arranges the burgers into a single line on one transport conveyor, the cardboard trays are denested onto another conveyor running in parallel. As the next process stage, a H 244 handling module loads the burgers into the cardboard trays, which are then packed on the packaging machine under modified atmosphere. An inline labeller then applies a label from above to the packs.
The universal W 500 flowpacker, which was shown for the first time at Anuga FoodTec 2022, and which features the proven MULTIVAC Hygienic Design™, is the heart of the line. Designed for a wide range of products and rapid product change, this packaging solution is characterised in particular by its cost-effectiveness and high output. The robust W 500 at Nuremberg will be integrated into an automated line, but it can also be used as a stand-alone solution. Its main features are maximum performance, precision, reliability and user-friendliness. Offering an output of up to 120 packs per minute or a film speed of up to 30 metres/min, this new development in the MULTIVAC product range is currently among the best performing box-motion flowpacking solutions on the market. And last but not least, the use of very thin films and the absence of process-related film trim also contribute to the sustainability of this solution.
Tray packaging line with paper pulp trays for fresh produce
Are you looking for attractive, sustainable and state-of-the-art packaging of fresh products? MULTIVAC will show you how to do this on its compact and automatic TX 710 traysealer. A tray filled with fresh berries is placed on a transport conveyor, before being sealed in the traysealer and then labelled from above. The tray made of cellulose is a biologically degradable tray, which meets all the current requirements in terms of sustainability, and which can also be run without problems on standard machines.
Thanks to its robust construction and innovative machine control featuring Flow Manager and Multi Sensor Control, the traysealer is capable of packing with maximum flexibility and consistent reliability - even at very high output in non-stop mode. A particular plus: The line offers simple operation of all line components at one control terminal, and it is designed for use with MULTIVAC's digital Smart Services.
Thermoforming packaging line for the automated packing of fresh meat
MULTIVAC will be demonstrating the packing of meat products in bulk packs on the R3 thermoforming packaging machine. The main features of the new machine type are an outstanding price-to-performance ratio and a high level of flexibility as regards the products, pack formats and packaging materials. Both conventional films and the latest types of sustainable packaging materials, such as for example the currently favoured polypropylene (PP) or polyethylene-based mono structures, can be run efficiently, consistently and, above all else, without producing creases.
Full wrap labelling of a wide range of packs with the L 312
MULTIVAC also expects a high level of interest from visitors in its new L 312 conveyor belt labeller. This unit enables C labelling and D labelling at up to 120 packs per minute to be performed automatically with weigh price marking in one process on the same machine. The robust labelling system, which is built to MULTIVAC's hygiene design, features a very precise level of calibrated weight measurement, and it is available as an option with integrated label and print inspection. The conveyor belt labeller can be used as a stand-alone solution or part of an automated line.
This solution meets the increasing demands of the market in terms of not only efficiency and performance but also sustainability. Full wrap labelling scores heavily, when compared with cardboard sleeves, thanks to its high level of material efficiency. Depending on the label material used, savings of up to 70 percent can be achieved on material costs.
L 310 inspection solution
MULTIVAC will also be showing at FachPack the high-performance L 310 conveyor belt labeller with integrated area scan camera for automated visual label and print inspection. The inspection system meets all the demands of complex or multifunctional inspection tasks: it can for example check the legibility and content of codes by means of text recognition or character verification. The label position and alignment can also be detected, as well as the shape of the label and defined pattern features.
Jennifer Read

Public Relations Manager
Tel: +49 8334 601-0
Mail: press@multivac-group.com

Tanja Böck

Public Relations Manager
Tel: +49 8334 601-0
Mail: press@multivac-group.com