TVI wins the "Fleischer-Handwerk Award 2022"
16/05/2022

And the winner is… TVI!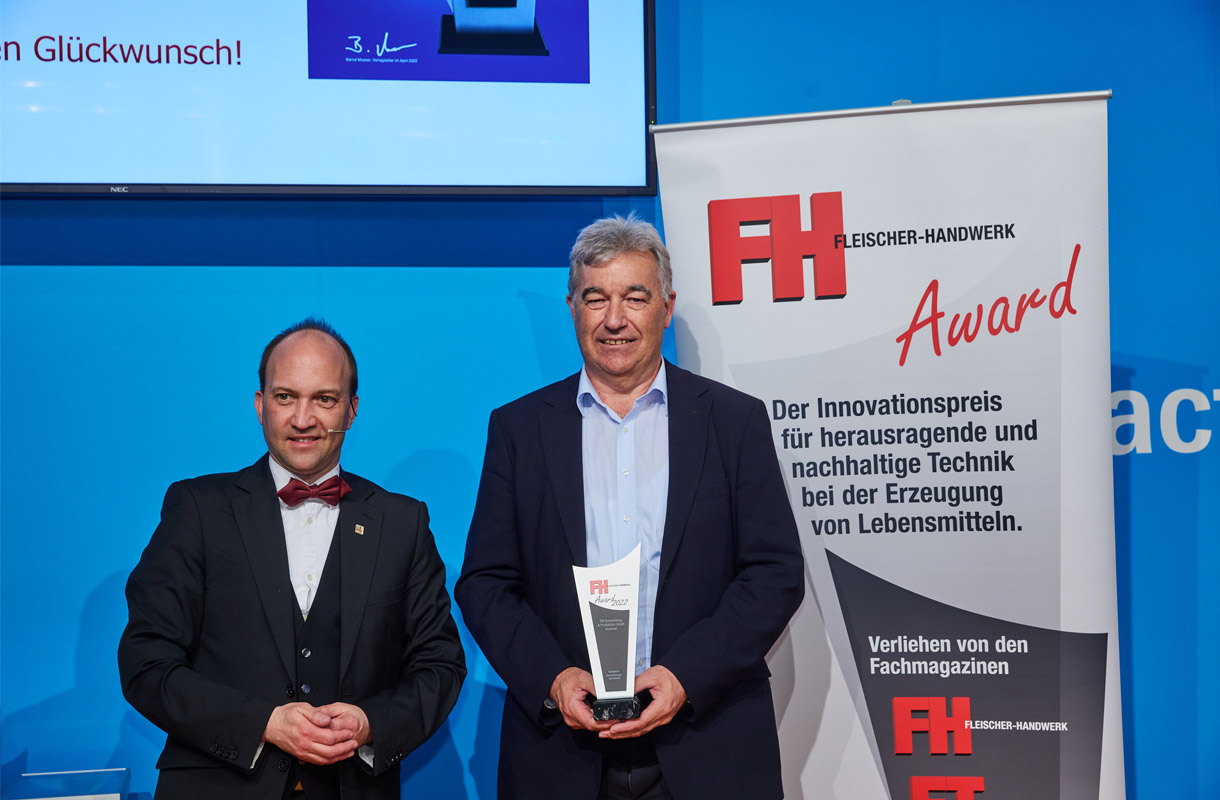 Bruckmühl (Germany), May 15, 2022 – Quality, innovative strength, and above all, a passion for meat – this is what TVI is all about, portioning at its best. The latest product development from the Bruckmühl-based specialists has just been honored with a coveted award. This year, the Fleischer-Handwerk Award 2022 (Butcher's Trade Award 2022) in the category of processing machines is going to TVI. The winner: the universal GMS 400 portioning machine. The worldwide unique, attractively priced entry-level model represents a milestone in terms of cost-effectiveness and resource efficiency. It also enables small and medium-sized producers to automatically portion fresh meat with maximum flexibility, portioning quality and yield. The award ceremony took place on May 15 at the IFFA in Frankfurt.
The award from the two renowned industry magazines – Fleischer-Handwerk and Fleischerei-Technik – is being presented for the eighth time. A distinguished jury honors practice-oriented developments, technologies and services in meat and sausage processing that stand out with the sustainable benefits they deliver for the processing company and the product quality.
This year, TVI is among the fortunate winners. With its innovative GMS 400, the specialist in the field of weight-accurate food portioning enables high-tech and affordable portioning with 3D forming for medium-sized companies – for the very first time. Significant savings potential, maximum flexibility, quality and efficiency, and especially a resource-saving process: "Better Portioning" – in the best TVI tradition.
Highest portioning quality
Portioning is a decisive factor behind the cost-effective production of fresh meat. Not only costs are incurred here, but product quality and resource efficiency are especially decisive. TVI's high-performance compact model ideally meets all these requirements: It can process virtually any type of meat and perform a wide variety of portioning tasks. From pork tenderloin to beef topside, from roast cuts to carpaccio – the GMS 400 gives any starting product a uniform shape and ensures visually appealing portions. "Our latest multitalented machine is the first in the world in this price and performance category to enable flexible shaping and weight-accurate portioning in a single process step," affirms Alois Allgaier, Managing Director of TVI Entwicklung und Produktion GmbH.
Maximum flexibility
... is the ultimate requirement, especially for medium-sized companies. And the universal portioner from TVI is ideally equipped to meet today's challenges. Because its three-dimensional shaping options adapt to any raw product and bring even the most varied cross-sections and consistencies into uniformly perfect shape. Thick or thin, large or small, bone-in or non-bone-in, smoked or cooked – the GMS 400 cuts almost anything in slice thicknesses ranging from two to 50 mm. A wide variety of products can be handled with just a few sets of dies – in the blink of an eye and without tools.
Highest yield
Operational profitability is determined primarily by how efficiently the valuable meat resource is handled. By optimizing the shaping and dividing of the meat pieces, the GMS 400 can increase yield to a maximum. If desired, it is even possible to portion the meat entirely without residues. If the portions are intended for an equalized, fixed-weight pack, the give-away can also be reduced to a minimum.
Simple operation
The TVI portioner also sets standards in terms of ease of operation. It can be operated effortlessly and intuitively with a minimum of manpower. The pieces of meat are inserted into a drawer from the side – much more ergonomically than when the machine is loaded from above. The process begins as soon as the drawer is inserted into the machine. In a first step, the product is perfectly shaped and measured in three dimensions. In the next step, it is portioned – free of residue and with minimal cut-off. The feed and stop plate determine the slice thickness in accordance with the target weight. The portions are then discharged via a conveyor belt at an ergonomic height and fed to the downstream process.
The GMS 400 is also line-compatible with other TVI modules and communicates with any TVI auxiliary equipment, such as the checkweigher.
With a real sustainability advantage
Thanks to the outstanding portioning technology, the valuable raw product is used optimally and processed without unnecessary residue. Neither compressed air nor cooling water are required to operate the GMS 400. And with regular maintenance, customers can count on a long service life for the machine. TVI therefore supports medium-sized companies in terms of sustainability and makes an important contribution to an improved CO2 footprint.
Return on investment
The GMS 400 is a solution that targets medium-sized meat processing companies. While the optimum raw material yield quickly provides them with enormous savings potential, they can remain flexible and produce more quickly, more efficiently in terms of personnel, more consistently, and always in outstanding quality. This means that the investment decision pays off within a very short time. In beef processing, for example, the return on investment – depending on production volume – is less than one year.
Awards ceremony
The awards ceremony took place at the Frankfurt exhibition center on May 15 at 2 p.m. on the stage of the IFFA Factory in Hall 11.1. Alois Allgaier, Managing Director of TVI Entwicklung und Produktion GmbH, accepted the coveted industry award on behalf of the entire TVI team.
Jennifer Read

Public Relations Manager
Tel: +49 8334 601-0
Mail: press@multivac-group.com

Tanja Böck

Public Relations Manager
Tel: +49 8334 601-0
Mail: press@multivac-group.com