The future of the meat industry – Hessian Finance Minister Boddenberg visits MULTIVAC
14/05/2022

Opening of the IFFA 2022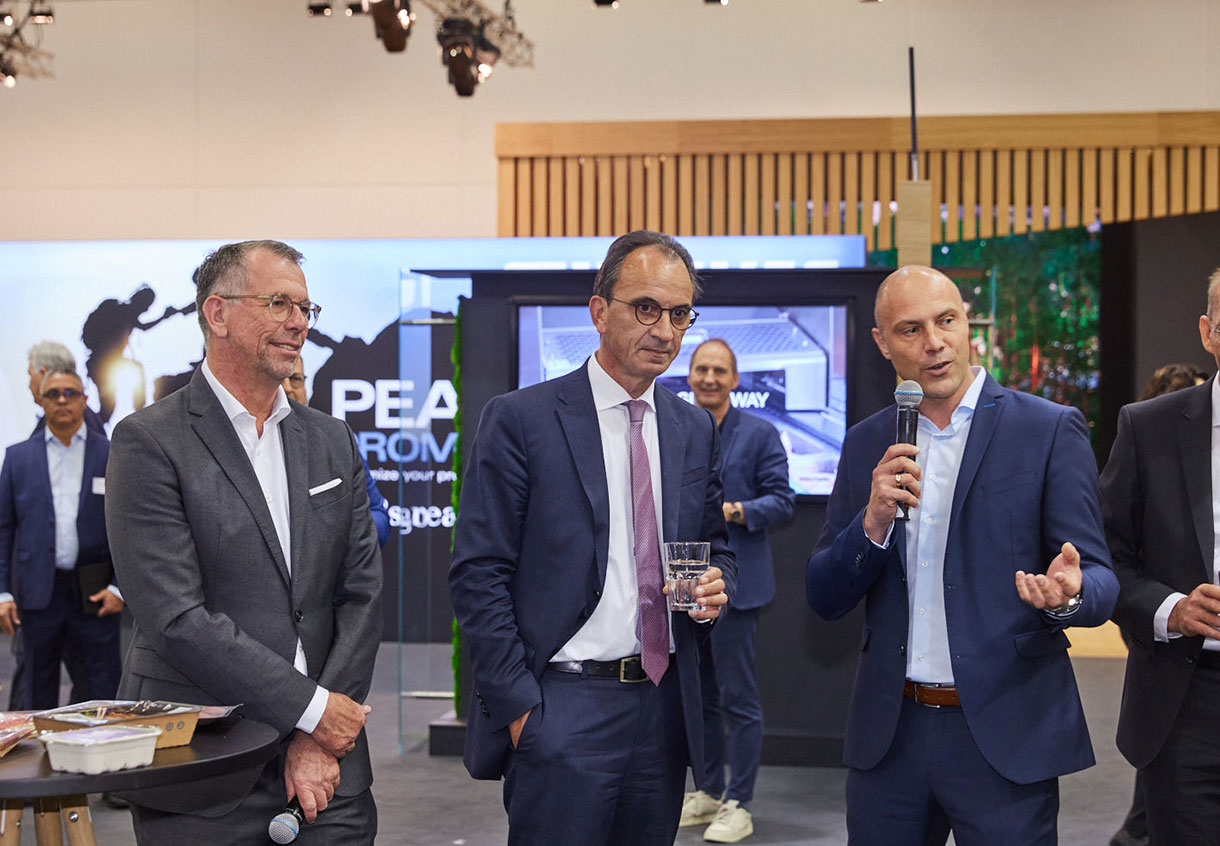 Wolfertschwenden, May 14, 2022 – The German government is pursuing ambitious goals: In the fight against climate change, Germany intends to be climate-neutral by 2045. This is also prompting the meat industry to rethink. At MULTIVAC's stand at the leading trade fair for the meat industry, the IFFA 2022 in Frankfurt, Hesse's Finance Minister Michael Boddenberg witnessed how MULTIVAC is helping meat processing companies improve their carbon footprint. He was joined by Stephanie Wüst, Head of Economic Affairs for the City of Frankfurt.
Pride and enthusiasm were evident on the faces of MULTIVAC employees when Michael Boddenberg visited the company's exhibition stand at the IFFA 2022 trade fair after his opening speech on Saturday, May 14, 2022. The Hessian Finance Minister – a master butcher by training – and Stephanie Wüst, Head of Economic Affairs for the City of Frankfurt, were there to see for themselves the innovative solutions developed by the Wolfertschwenden-based machine manufacturer to improve the meat industry's carbon footprint.
Digitalized lines reduce the meat processing industry's carbon footprint
During the visit, Michael Boddenberg and Stephanie Wüst were offered insight on a high-profile topic in the industry: Digitalization. More and more MULTIVAC machines – including slicers, packaging machines and labellers – are equipped with sensors, networked with computers and connected to the secure MULTIVAC Cloud via the Internet. Why? Because the intelligent MULTIVAC Smart Software Services can use the sensor data to visualize production – virtually in real time at any location – enabling immediate optimization. "Lines digitally connected in this manner can significantly reduce product waste and make an important contribution to further improving the meat processing industry's CO2 footprint in the future," explained Christian Traumann, Group President at MULTIVAC.
Sustainable packaging materials also improve the meat industry's carbon footprint
Another important topic for the global meat industry of the future: Packaging. A move away from the linear economy, where plastic packaging ends up being incinerated and causing CO2 emissions, is urgently needed. The alternative? Boddenberg and Wüst also gained insight on this key area at the MULTIVAC stand: With sustainable packaging materials made from renewable raw materials and recyclable mono-materials – all developed for the circular economy. The combination of packaging and processing expertise, as well as innovative machines that can process this type of sustainable packaging material to achieve optimum shelf life, as well as food security and safety, can improve the entire industry's carbon footprint. Traumann is confident that "by 2025, the majority of all packaging could be made from recyclable packaging materials."
"We reach 1.5 billion people worldwide every day with our products for the meat industry"
The Hessian Finance Minister and the Head of Economic Affairs for the City of Frankfurt also experienced the latest technology and machine developments for the meat industry at the MULTIVAC stand. For example, the new R3 Thermoforming Packaging Machine, which can reliably process recyclable mono-materials such as APET or PP for an environmentally friendly recycling economy. Or the new L 312 Labeller for full-wrap food labelling – a solution that saves up to 70 percent material compared to cardboard sleeves. With the new GMS 400 from TVI, a MULTIVAC Group brand, fresh meat can be portioned with high-level weight accuracy for medium output requirements and maximum flexibility, while minimizing valuable cut-off meat losses. "Every day, 1.5 billion people around the world consume meat products that have been processed or packed with our solutions," concludes Traumann. "That's 1.5 billion reasons to take responsibility for the environment."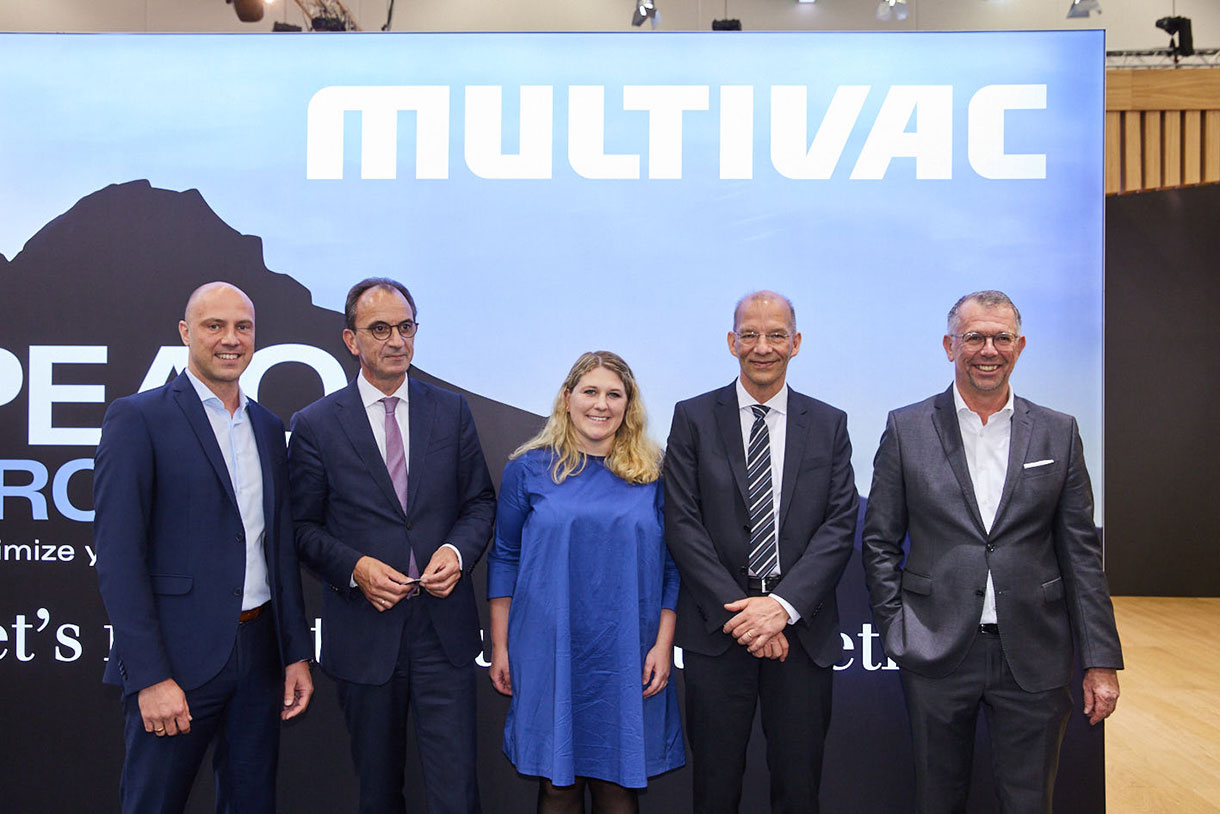 Jennifer Read

Public Relations Manager
Tel: +49 8334 601-0
Mail: press@multivac-group.com

Tanja Böck

Public Relations Manager
Tel: +49 8334 601-0
Mail: press@multivac-group.com